Description
Trap? Pop? Both!
BIG beats for fame and glory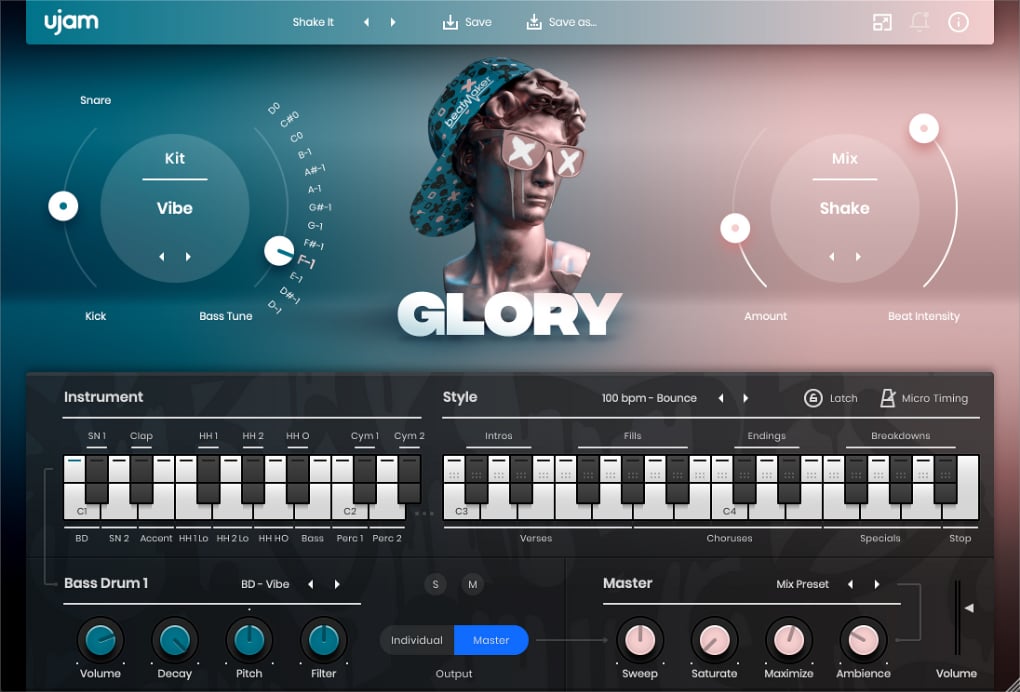 GLORY is the virtual beat maker for all kinds of trap and modern hip-hop. Where heavy, tuned 808-kick drums meet frantic hi-hats at the top of the billboard charts. Create beats that bounce and roll with GLORY!
What's inside?
20 styles, 60 presets
10 drum kits, 460 patterns
MIDI Drag and Drop
Special control: Bass Tune
Ice cold sound
It's all about that beat. For many tracks in these genres, the beat is so essential that they do away with most other elements, if not all. Start with a beat, maybe layer some melodic loop on top, and leave plenty of space for the vocals.
Always on time
GLORY is part of UJAMs Beatmaker series, which makes producing outstanding beats for your music fast and easy. It instantly syncs to your DAW's tempo, and you can play a near-infinite variety of beats.
Brand
UJAM
The story behind our company originates from the hugely successful Steinberg Virtual Guitarist released at the Musikmesse in Frankfurt in 2002. The team behind that landmark release reunited and created UJAM with a vision to develop great sounding and easy to use audio plug-ins.
Demo Songs
The drum sounds of GLORY are gritty and heavy. They can cut through a mix and provide plenty of bass. However they're carefully sound designed to give you that production-value-feel right out of the box.
Videos
Product video:
Walkthrough video by Derek van Krogh:
Feature Overview video:
Preset Show:
Series "Beatmaker Bundle" video: