Description
Beats like your fave idols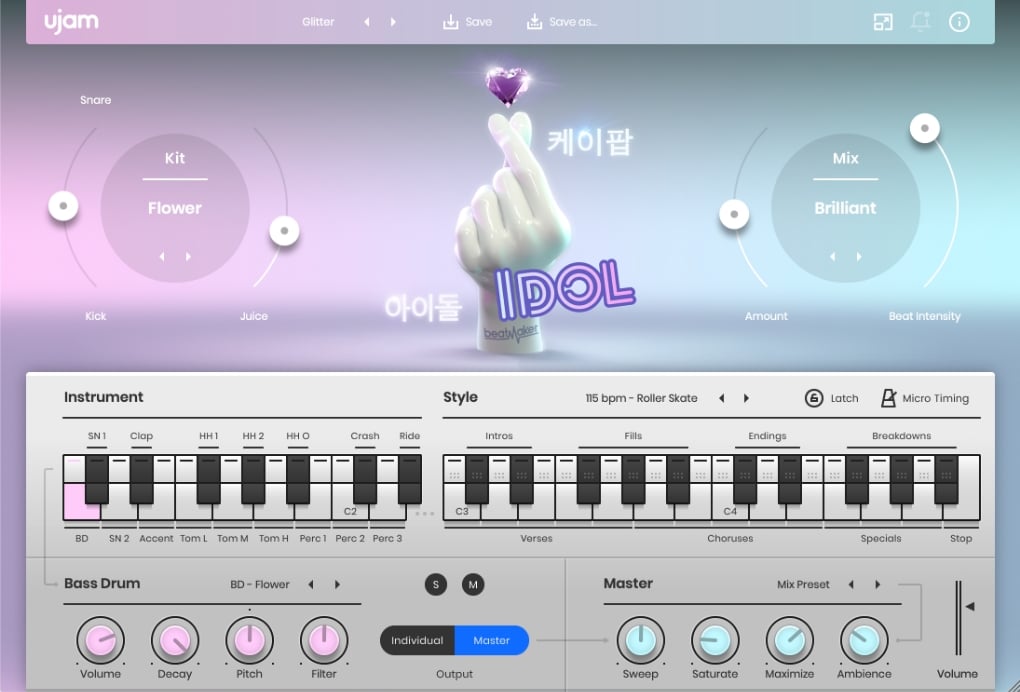 IDOL puts the bright and hyper-processed sound of K-Pop beats in your hands. Keep the good feels coming with clean and polished drum samples, making beats just like the ones in countless chart-topping Korean pop songs!
What's inside?
20 styles, 50 presets
10 drum kits, 460 patterns
MIDI Drag and Drop
Special control: Juice algorithm
K-Pop is a very bright, polished genre, with thumping kicks and snares that pop. Its high end glisten and tight low end are carefully compressed to hit hard using influences from hip hop, R&B, American/Euro pop and traditional Korean instruments!
Take the precision and hyper-compression of pop music and dial it up to 11. Carefully trim the tail of every sample and keep the releases tight. Editing samples to get the perfect K-Pop sound can take hours — with IDOL, everything's already done for you!
K-Pop is influenced by rhythms from around the world, so it's impossible to define it by only one sound. That's why IDOL gives you 4-to-the-floor kicks, chaotic breakbeats, rolled trap hi hats and more — all with the same larger-than-life production style.
The proprietary Juice control punches up the lows and highs with multiband compression and EQ for a clean, dramatic sound, with a gentle stereo spread to neatly tie everything together and add some excitement.
Brand
Videos
Product video:
Feature Overview video:
Demo Songs