Dials
$79.00
Test Equipment Channel Strip
Description
Test Equipment Channel Strip
The treasured sound of 1950s electronics re-created
Dials is a detailed digital translation of a unique combination of 1950s electronic music hardware from composer and YouTuber Hainbach's studio. It is made with the rich sound and experimental spirit of early electronic music studios in mind.
The basis of Dials is a re-purposed German vacuum tube radio broadcast device paired with a heavy-duty American bandpass filter. They form a channel strip like no other. The scientific and radio background of the equipment provides a tone that sets it apart, whether you are processing vocals, drums, or any other instrument. Due to the built-in compressor, it is perfectly suited to lend your voice-over the "larger than life" feeling of great recordings of the past or make your drums sound like they could get past the door at Berghain. Speaking of which: if you are feeling adventurous, feed it impulses and hear it roar like Stockhausen at a Gabber party.
While its roots are in the past, this is a truly modern device with an unparalleled sound. It can be used to sweeten your music or to experiment – it can even become an instrument in your hands.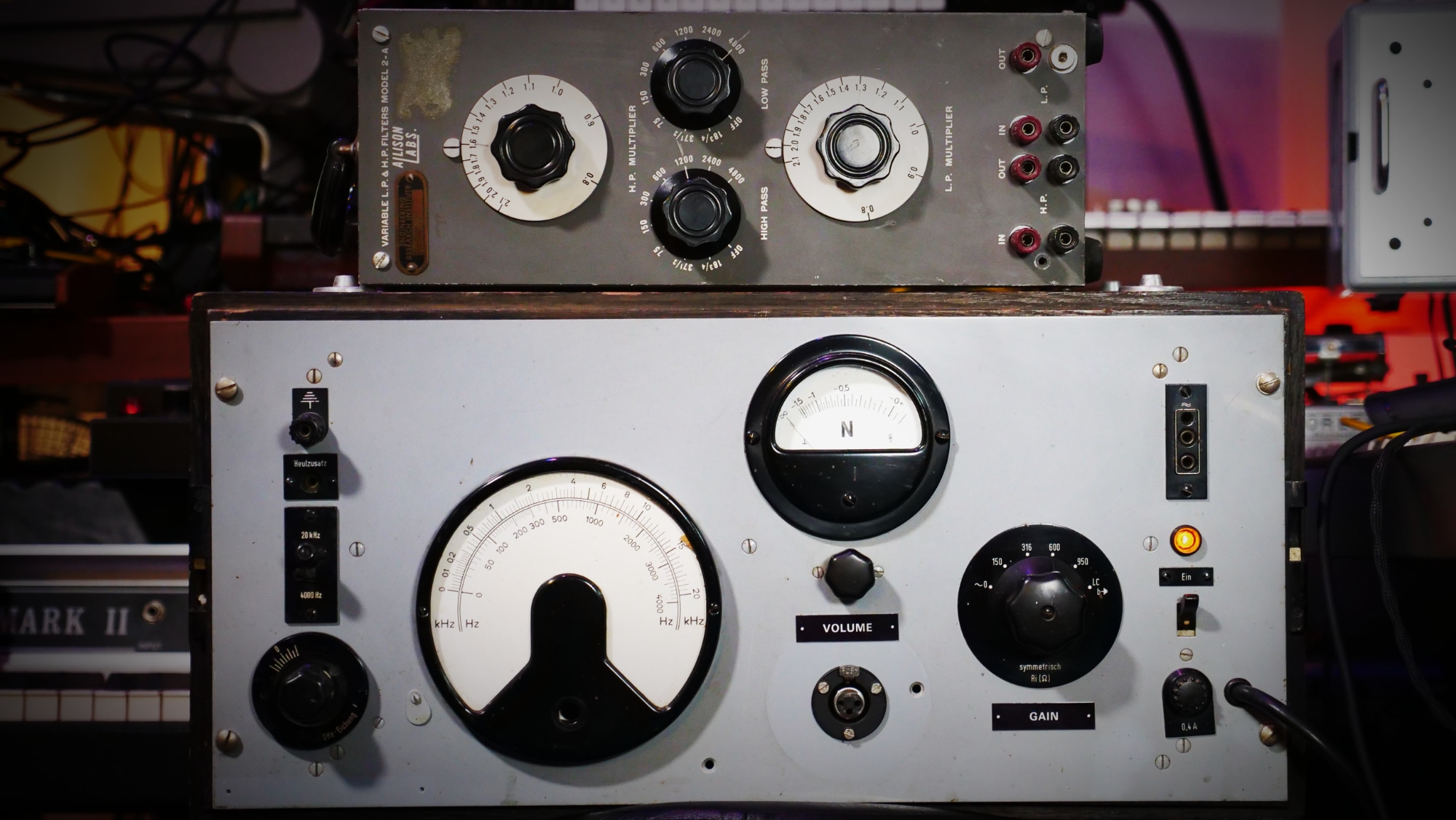 The sonic basis of the plugin is a combination of two units that serve as a channel strip in Hainbach's studio. A modified German level transmitter from radio broadcast maintenance and a scientific high and lowpass filter.
The Preamp
This 1950s/60s German measurement instrument was originally used to send a fixed level and frequency to a radio transmitter. On the receiver end it could then be checked how much of that signal came through and what adjustments had to be made. Analog specialist Wojcek Czern of Rogalow Audio  (PL) discovered that it could be adapted to be a high-quality mic preamp on par with studio legends like the V72 and V76. It is Hainbach's main preamp for voice, acoustic mono recordings and processing synths.
One welcome side-effect of this massive steel-tubed amplifier is that it compresses the signal pleasantly. Singing into it is a joy in itself. We analyzed the effect and made it adjustable, so you get the wonderful overtone rich gain of the preamp separately from the compressor.
The Filter
Allison Labs filters were common in science labs and early electronic music studios. Unlike their German stepped counterparts, they could be swept (at least in parts). That allowed much more fine filtering of frequencies. Passively built, they offered the height of precision at the time. But be it because of the age of the unit or our changed perception due to digital technology: to today's ears, they don't sound precise at all. They sing beautifully, as their peaks ripple across the cutoff frequencies. This is especially noticeable if you play with the resonance, the only new feature we added. One note: don't take the frequencies inscribed on the front to heart – they might be off considerably.
System Specifications
Specifications
Analog Preamp Emulation
Analog Modelled Filters (HP, LP)
Easy to use Compressor
Trip Modulation
Resizable Window
Preset system with randomizer
System Requirements
Windows 7, 8, 10
2GHz CPU, 4 GB RAM
VST2, VST3, AAX, CLAP (64-bit)
OS X 10.9 – macOS 12
2GHz CPU, 4 GB RAM
VST2, VST3, AU, AAX, CLAP (64-bit)
Universal 2 Binary
Audio Demo