Description
Summary
Unrivalled sound and workflow
An equalizer is probably the tool you use most while mixing and mastering, so you need the best of the best. With FabFilter Pro-Q 3, you get the highest possible sound quality, a very extensive feature set, and a gorgeous, innovative interface with unrivalled ease of use.
Mixing and mastering features
Pro-Q 3 offers everything that a demanding engineer could wish for: top-quality linear phase operation in addition to the zero latency and unique Natural Phase modes, smooth dynamic EQ, per-band mid/side processing, full surround support (up to Dolby Atmos 7.1.2), an intelligent solo feature, optional Auto Gain and a built-in, fully customizable spectrum analyzer.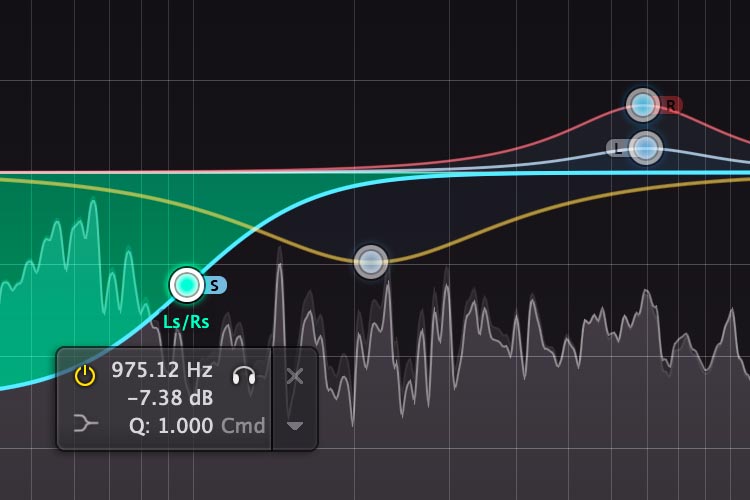 Effortlessly sculpt your sound
FabFilter Pro-Q 3 is designed to help you achieve your sound in the quickest way possible. Via the large interactive EQ display, you can create bands where you need them, enable dynamic EQ for any band, and select and edit multiple bands at once.
Unique features like Spectrum Grab, Full Screen mode and EQ Match will speed up your workflow even more. Try it yourself!
FabFilter goodies
Of course, you also get all the usual FabFilter goodies: perfectly tuned knobs, interactive MIDI Learn, undo/redo and A/B switch, Smart Parameter Interpolation for smooth parameter transitions, an extensive help file with interactive help hints, sample-accurate automation, advanced optimization and much mor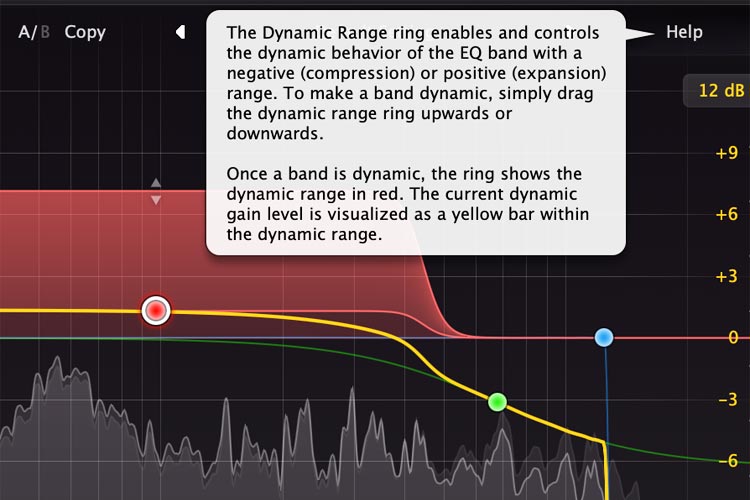 Key features
Highest possible sound quality
Up to 24 EQ bands

NEW – 

Optional Dynamic EQ mode for all bands (Bell and Shelf shapes), using any slope setting and with perfect analog matching, with optional external side chain triggering

IMPROVED – 

Gorgeous Retina interface with large interactive EQ display, multi-band selection and editing for maximum ease of use and efficiency

NEW – 

Ultra-steep 'Brickwall' slope setting for LP and HP filters

NEW – 

Full surround support (up to Dolby Atmos 7.1.2) with intelligent speaker selection

NEW – 

External spectrum visualization from any other Pro-Q 3 instance, including collision detection

NEW – 

Per-band mid/side or left/right processing, so you can EQ the mid, side, left or right signals separately
Operates in zero latency mode, linear phase mode with adjustable latency or the unique Natural Phase mode

NEW – 

Flat Tilt filter shape, a flat tilting correction curve over the whole audible frequency spectrum

IMPROVED – 

Spectrum Grab: just grab and adjust a peak in the real-time spectrum analyzer right away!
Different interface sizes and additional Full Screen mode

IMPROVED – 

Filter shapes: Bell, Notch, High/Low Shelf, High/Low Cut, Band Pass, Tilt Shelf, Flat Tilt
Universal filter slope support for all filter types, up to 96 dB/oct

IMPROVED – 

EQ Match feature to automatically match the spectrum of another Pro-Q 3 instance or an external signal

IMPROVED – 

Built-in spectrum analyzer with Pre-EQ, Post-EQ and external spectrum visualization, adjustable range, speed, resolution, tilt, freeze and collision detection
Auto Gain and Gain Scale
Optional piano roll display to quantize EQ frequencies to musical notes
Different display ranges: 3 dB and 6 dB ranges for mastering, 12 dB and 30 dB for mixing
Intelligent solo mode makes it easy to find problem frequencies and hear the effect of a band
Phase Invert option to change polarity
Large output level meter with peak level readout
Extreme CPU optimization: Pro-Q 3 uses very little CPU and memory, so you can use hundreds of instances in a session
GPU-powered graphics acceleration
Double-click text entry of parameter values

IMPROVED – 

Supports stereo, mono and surround channel layouts (up to Dolby Atmos 7.1.2)
Supports common Pro Tools hardware control surfaces

IMPROVED – 

MIDI Learn with option to control the currently active band
Undo/redo and A/B comparison
Smart Parameter Interpolation
Sample-accurate automation of all parameters
Extensive help file with interactive help hints
Available in VST, VST3, Audio Units, AAX Native and AudioSuite formats (all both 64-bit and 32-bit)