Description
The Magical Movement Machine
Animate, morph, and re-groove your sounds
Surreal transformations
With Finisher DYNAMO you embark on a journey through animated soundscapes and surreal vibes beyond the realm of the ordinary. Every Finisher FX plug-in is designed to deliver the power and flexibility of a full rack of audio processors and effects with the instant gratification that UJAM products are famous for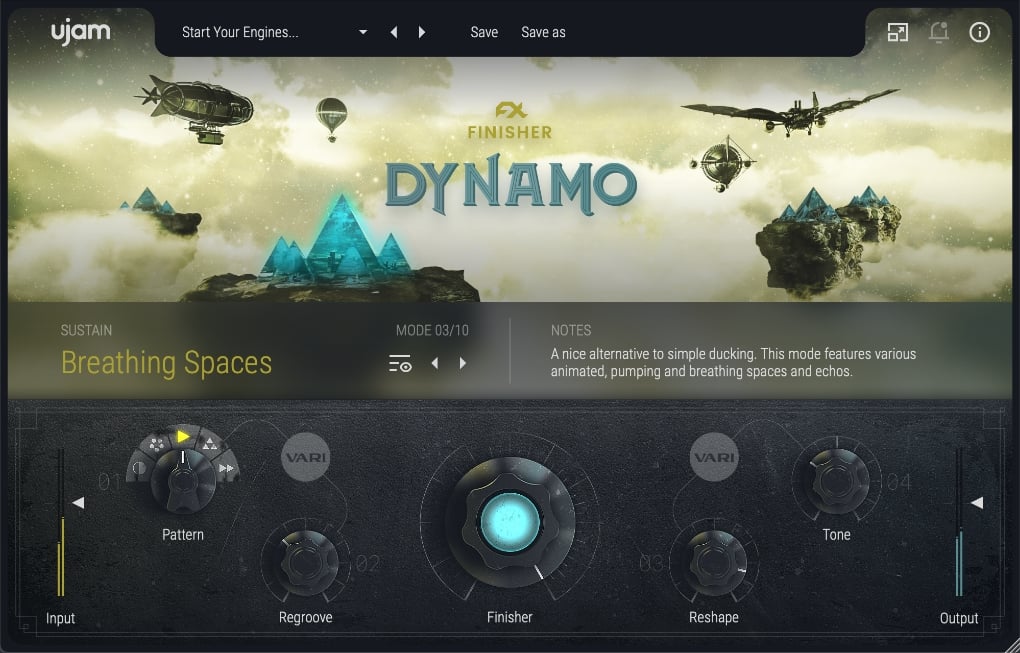 Worlds of sound
Finisher DYNAMO comes with 50 carefully designed audio effect configurations built from 27 different algorithms – from Step Filters to Multiband Distortion, from simple Delays to Convolution Reverb and many more!
The five categories of Modes in DYNAMO were programmed with specific use-cases in mind. Just pick a preset from a category and fine-tune to your delight…
Brand
The Hard Facts
Operating Systems
Windows 7 or later
MacOS X 10.14 or later
You may run it on earlier versions but we don't support them.
Minimum Requirements
8 GB of RAM
0.9 GB of Disk Space
1280x768px Display, Internet Connection.
DYNAMO will function on 4 GB RAM systems, but we recommend at least 8 GB if you intend to run multiple instances in the same session.
If you want to move your .blob file to an external drive, we recommend the use of a SSD to prevent dropouts.
Plugin Formats
VST, AU 2, and AAX
AU 2 version only compatible with Logic Pro X and newer.
Demo Songs