Description
Summary
Pianoteq 8 PRO is the most advanced version, adapted for the creative composer and demanding studio engineer. In addition to the Standard version, it gives you all the tools needed to work in a truly professional environment, letting you adjust 30 parameters for each note on the keyboard and work with up to 192 Khz audio. Pianoteq PRO comes with four instrument packs of your choice.
The Pianoteq Standard version offers several powerful tools for sound shaping and recording. It is a natural choice for the semi-professional musician who wants to adjust unique physical parameters such as unison with, microtuning, hammer hardness, soundboard and string length. It also lets you position up to 5 microphones around the instrument and to choose from a selection of different microphone brands.
Extraordinary sound shaping
The possibility to shape the sound through physical parameters is an extraordinary feature that cannot be found in any other piano software. With just a few mouse clicks, you can achieve things that would require hours, or even weeks, by piano technicians to adapt on real acoustic pianos.
Some things can hardly be done in the real world, such as changing the string length from a mini grand of 1m/3.3ft to an imaginary giant grand of 10m/33ft. You can even modify the mechanical properties of the soundboard. New exciting possibilities open up as you explore the parameters and discover sounds that you have never heard or thought of before.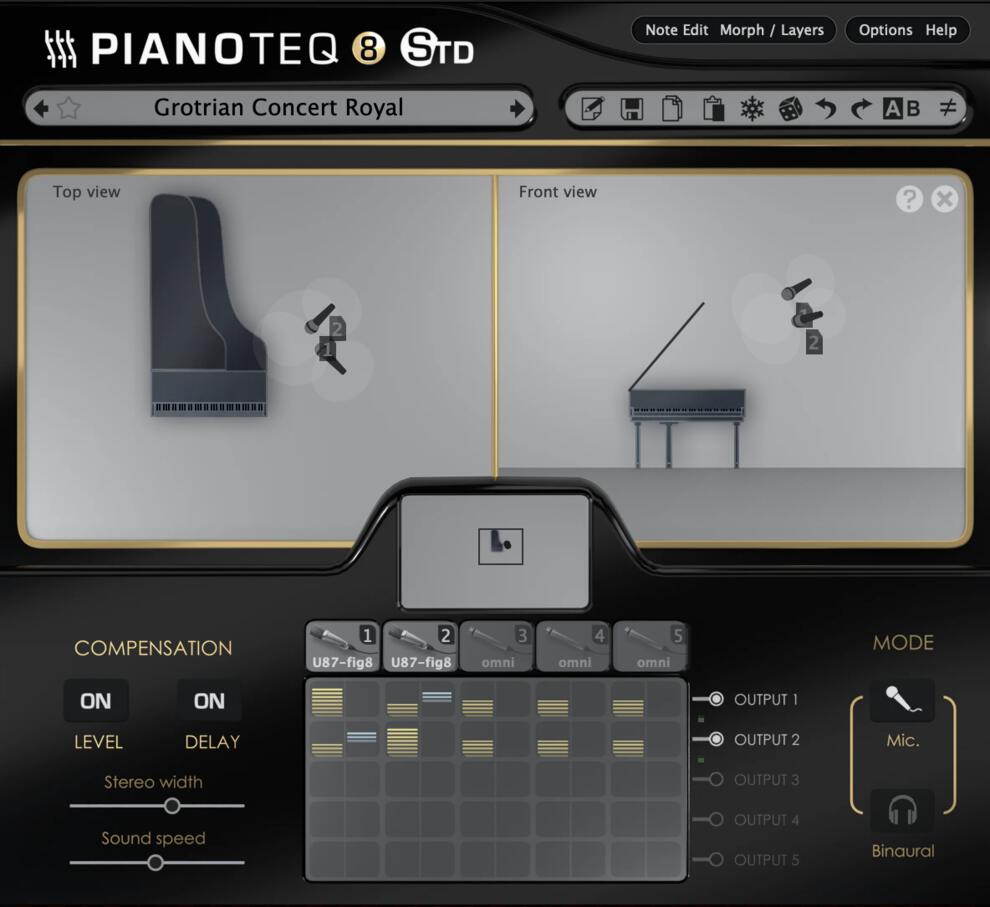 Presets from the FXP Corner
Users of the standard version can make full use of all exciting presets created by other users (available in the FXP corner), including those created by Pianoteq PRO users: any preset created with Pianoteq Standard or Pianoteq PRO produces exactly the same sound in Pianoteq Standard and Pianoteq PRO.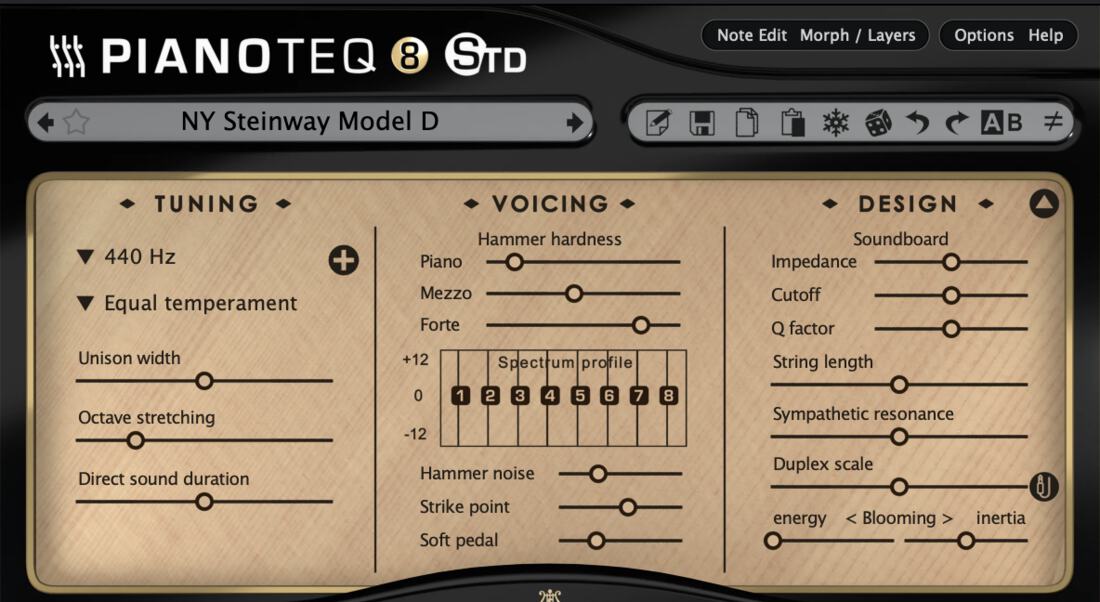 Similar to what professional audio engineers do when recording, you can place up to 5 microphones anywhere around the instrument in a separate illustrative interface. By adjusting microphones, you are able to quickly adjust the colour and presence of the sound.
Fifteen directional microphones of well-known brands are modelled, increasing the palette of available sound colours.
A mixer is available for combining the microphones into 5 output channels, with the possibility to adjust separately level and delay. In binaural mode, for headphone usage, a head model is used for simulating the sound heard by a person located where the head is placed in the interface. The head can be rotated in any direction and even its size can be changed.
Brand
Pianoteq
Pianoteq is an award-winning virtual instrument which you can install on your computer (PC/Mac). It is available for Windows, macOS, and Linux, and will even run on some ARM-based boards such as the Raspberry Pi. It can be used both in standalone mode and as an instrument plug-in in VST, AAX, and AudioUnits hosts. What makes Pianoteq superior to other virtual instruments is that the instruments are physically modelled and thus can simulate the playability and complex behaviour of real acoustic instruments. Because there are no samples, the file size is just a tiny fraction of that required by other virtual instruments, making Pianoteq perfect for any laptop.