Description
Warm & Shiny Strums
Add warm and shimmering acoustic guitar strumming to your production
What's in There?
Steel-string acoustic guitar strumming
More than 50 Styles and 600 Phrases
Select or mix between microphone and pick-up signal
From full-bodied warm to metallic-sparkling bright
Tweak the sound even further with separate controls for overall tone including the position of your strumming hand and add some beautifully smooth top end with our unique shimmer algorithm. Throw in the options for authentic fret noise, lower tuning and doubling with some fantastic effects and you end up with a sonically versatile toolbox of acoustic steel-string sounds at your fingertips.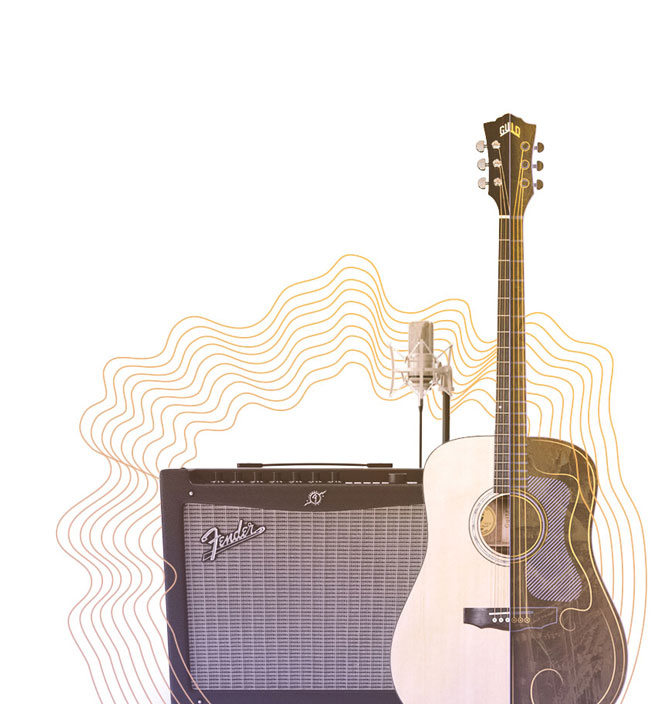 The premium sound quality of Virtual Guitarist AMBER comes from the culmination of rigorous testing and measuring of dozens of combinations of high-end guitars and microphones. Eventually, the perfect blend was found: A boutique American vintage dreadnought and a legendary German vintage large diaphragm microphone. For even more sonic versatility we've captured the guitar pickup too.
Virtual Guitarist supports Native Instruments NKS. Virtual Guitarist will be mapped to Komplete Kontrol keyboards and Maschine straight out of the box. Enabling you to use Virtual Guitarist with the Light Guide, Smart Play features, and the full creative potential of KOMPLETE KONTROL without any configuration hassle.
Brand
UJAM
The story behind our company originates from the hugely successful Steinberg Virtual Guitarist released at the Musikmesse in Frankfurt in 2002. The team behind that landmark release reunited and created UJAM with a vision to develop great sounding and easy to use audio plug-ins.
The Hard Facts
Operating Systems
Windows 8 or later.
OS X 10.11 / macOS 10.12 or later.
64 bit only.
You may run it on earlier versions but we don't support them.
Minimum Requirements
4 GB of RAM 2.4 GB of Disk Space
1280x768px Display, Internet Connection. If you want to move your .blob file to an external drive, we recommend the use of a SSD to prevent dropouts.
Plugin Formats
VST, AU, and AAX
On Reason? A-List Acoustic Guitarist is AMBER's Sister in Rack Extension
Delivery Format
Downloadable Installer File
Authorization
E-mail and Password Within the Plug-in
Supported Standards
MIDI, Native Instruments NKS
Videos
Product video:
Walkthrough video:
Audio Demos
Faster, Better and Easier
AMBER is suitable for all music production skill levels, from complete beginners who are just starting out to top professional composers working to tight deadlines who want great sounding acoustic guitar tracks with minimal fuss.