Description
The Big-Stage Entertainer
For timeless pop anthems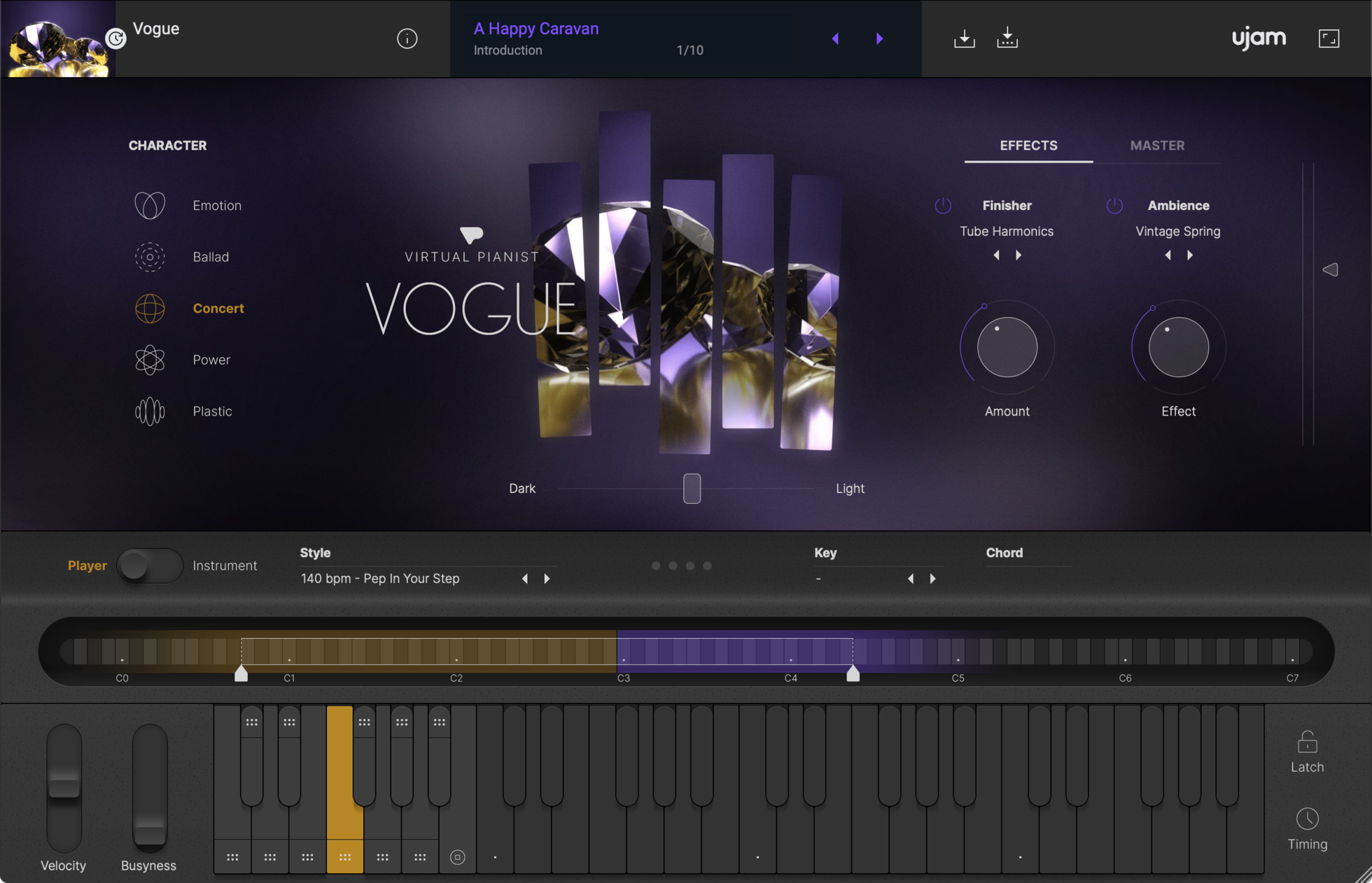 Dazzling, charismatic and irresistible
The grand piano – the prima donna amongst pop music instruments! Like nothing else, it breathes grandezza and glamour into any production. So important, so beautiful and so hard to master. Fret no more! Here comes Virtual Pianist VOGUE, the smart way to produce realistic piano performances. Create dazzling results while staying in the flow – zero piano skills required.
| Styles and Phrases | Effects | Presets | MIDI |
| --- | --- | --- | --- |
| 30 Styles with 180 Phrases and 150 Fills and Add-Ins | 30 Finisher Multi-Effect Modes and 30 Ambience FX Presets | More than 130 Global Presets for various applications | MIDI Drag & Drop, Resizable User Interface |
Complementing the band
VOGUE is a professional session player well-versed in contemporary musical styles. This virtual musician can contribute rhythmic tracks as part of a band, accompaniments for singers and instrumentalists, or simple but appealing solo passages and instrumental playbacks. Just pick and choose from 30 styles, trigger the phrases and adjust to fit.
Groove operator
From Elton John to Alicia Keys, entertainment greats of all eras knew how to harness the magic of eighty eight keys. Convert your idea into a great-sounding, musical track easily. Under your control and serving your creativity. Great if you're an experienced piano player looking for inspiration to quickly produce outlines. Even greater if you can't play the piano… because now you can!
Pristine quality
VOGUE is first and foremost a modern and perfectly produced grand piano. It's based on a legendary Austrian large concert grand piano, a gold-standard in studio and stage sound. Tuning and setup were customized for pop and rock. It's punchy and crispy, and with pristine full-bodied sound and lots of dynamics, VOGUE can hold its own within a band.